Neelam's Live Online Yoga Classes for Ladies

'Yoga for Health & Happiness' conducts 60-minute daily online yoga classes for ladies from Monday to Friday both in the morning and evening on ZOOM app.
Here is a glimpse of a live yoga session by the founder herself, Mrs. Neelam Chandnani, a certified Yoga Therapist.
Personal attention is given to every student in the group classes thus ensuring that the yoga asanas and exercises are practised correctly.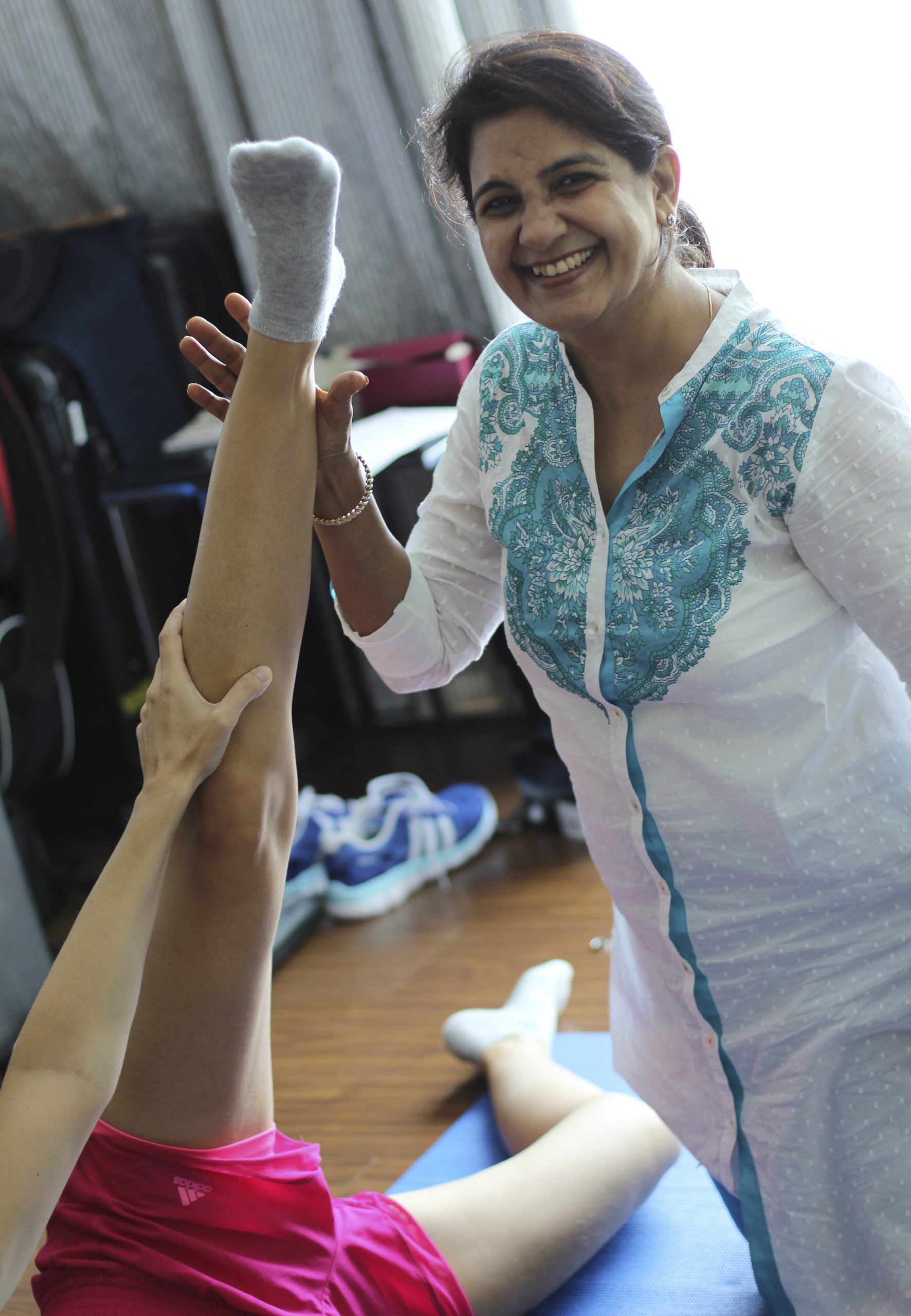 Neelam is a certified Yoga Therapist with advanced training in Online yoga classes for Ladies and specialization in prevention and management of chronic health disorders.
She founded Yoga For Health and Happiness in 2011 and has been conducting live online yoga sessions for women on Zoom app.
She has 14+ years teaching experience in Traditional & Power Yoga.
PROFESSIONAL CERTIFICATIONS
• Diploma in Yoga Therapy, Naturopathy & Natural Living
• Course in Dynamic Energizing Power (DEP) Yoga from Swami Vivekananda Yoga Kendra, Vashi
• Certified Yoga Therapist
There are limited number of students in each batch in order to give individual attention to each member of the batch.
Batch timings in IST (Monday to Friday)
Morning batch : 06:15 – 07:15 am
Evening batch : 06:00 – 07:00 pm
Enroll yourself for a free trial session –
Call / Message / WhatsApp
+91 9223266839
+91 9819950609
Regular online group yoga sessions are excellent for people who want to stay healthy, both physically and mentally.
Location is not a constraint anymore!
Neelam has been conducting regular live online yoga classes globally on Zoom app.
Winner of UrbanPro Excellence Award 🏆
2 years in a row! (2021 & 2020)
2021

2020

Neelam has consistently won the UrbanPro Excellence Award for two consecutive years for Online yoga Classes for ladies.
She has helped her students achieve their health goals and have experienced benefits through online yoga like:
* Weight-loss
* Better & deeper sleep
* Muscle / Back-pain relief
* Glowing skin through facial yoga
* Reduced PCOS & PCOD symptoms
* Improved flexibility
* Improved digestion
* Overall well-being
Transform your Life
with
NEELAM'S
Live Online Yoga Classes for Women
– Yoga for the sense organs
– Traditional yoga
– Power yoga
– Surya namaskar
– Cardio exercises
– Yoga as a therapy
We firmly believe in Yoga as a fitness routine and as a therapy and have developed specially designed online yoga programs to achieve different goals.
Have a question or want to know more about our online yoga classes for ladies?
Book your free online Trial Session
Hurry! Book your slot now
+91 9223266839
+91 9819950609